Textos (selección) / Texts (selection)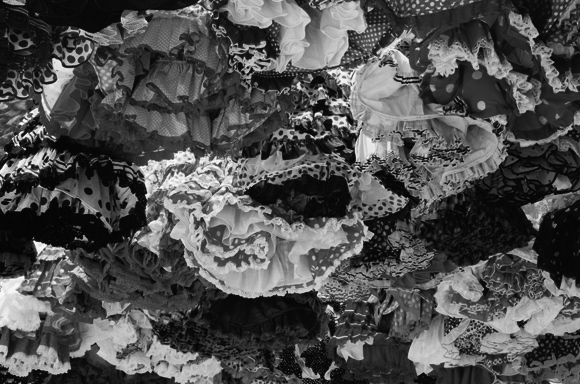 Ir tan lejos como se pueda ir

Cecile Bourne-Farrell
© de los textos: sus autores
Albarracín nos invita, en Techo de ofrendas (2004), a refugiarnos «bajo el amparo» de ese millar de plegarias transcritas por ella como volantes de encajes, cintas, bolillos y tirabordadas multicolores que se elevan y se mantienen flotando ante nosotros como la antesala del mundo celestial que se nos promete. Desde la singular perspectiva de cerca de un millar de trajes de flamenca suspendidos en el aire, la artista hace referencia a algunos espacios de culto de su Sevilla natal, a las bóvedas y los retablos barrocos repletos de decoraciones profusas de yeserías y tallas con motivos geométricos y vegetales.
DESCARGAR TEXTO COMPLETO

Albarracín invites us, in Techo de ofrendas (2004), to "flee" to the "protection" of these one thousand prayers transcribed by her as lace flounces, ribbons, bobbin laces and multicoloured embroidered strips which rise up and float before us like the waiting room of the celestial world promised to us. From the unique perspective of around one thousand flamenco dresses hanging in the air, the artist refers to some places of worship in her native Seville, to the baroque vaults and altarpieces replete with profuse decorations of plasterwork and carvings with geometrical and vegetal motifs.
DOWNLOAD FULL TEXT

Albarracín nous invite, dans Techo de ofrendas (2004), à nous réfugier « sous la protection » de ce millier de prières transcrites par elle comme autant de volants de dentelles, de rubans, de fuseaux et de bandes brodées multicolores qui s'élèvent et demeurent en l'air, flottant, devant nous comme l'antichambre du monde céleste que l'on nous promet. Dans la perspective singulière de près d'un millier de costumes de flamenca suspendus dans les airs, l'artiste fait référence à certains espaces de culte de sa Séville natale, aux voûtes et aux retables baroques, couverts de décorations de stuc et de sculptures en bois aux motifs géométriques et végétaux.
TELECHÁRGER LE TEXTE INTÉGRAL