Textos (selección) / Texts (selection)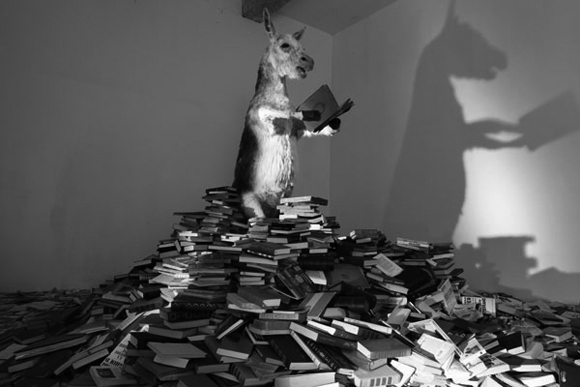 " Ces animaux qui se glissent dans la peau des hommes " (à propos d'une œuvre de Pilar Albarracín)

Fabien Faure
© de los textos: sus autores
Al entrar en la primera sala de la exposición Fabulations, que el Centre d'art le LAIT (Laboratoire Artistique International du Tarn) dedica a las obras recientes de Pilar Albarracín, el espectador, al que imagino tan sorprendido como yo mismo lo estuve, descubre, en semipenumbra, una instalación. En el centro, encima de un cúmulo vagamente piramidal formado por varios miles de libros, un asno sentado domina la estancia. Si la presencia de este asno parece, a primera vista, poco adecuada a los usos de un lugar destinado a la exposición de obras contemporáneas, es porque se trata de un asno «auténtico», es decir, más exactamente, de un asno disecado, arreglado y dispuesto escénicamente de manera que se muestra físicamente, sujetando entre sus patas delanteras un libro con cubierta roja.
DESCARGAR TEXTO COMPLETO

As you enter the first gallery of the exhibition Fabulations, which the Centre d'art le LAIT (Laboratoire Artistique International du Tarn) is devoting to recent works by Pilar Albarracín, the viewer, who I imagine will be as surprised as I was, discovers, in the semi-darkness, an installation featuring a donkey sitting upright in the centre, enthroned on the top of a vaguely pyramid-shaped pile of several thousand books. If, at first sight, the presence of the donkey doesn't seem to be in keeping with the purpose of a venue devoted to the exhibition of contemporary works, this is because, in this case, it is a "real" donkey, or, to be more precise, a stuffed donkey, given shape and then presented in such a way that it offers itself physically to our gaze, holding a book with a red cover between its front legs.
DOWNLOAD FULL TEXT

Pénétrant dans la première salle de l'exposition Fabulations, que le Centre d'art Le LAIT (Laboratoire Artistique International du Tarn) consacre aux œuvres récentes de Pilar Albarracín, le spectateur, que j'imagine aussi surpris que je le fus moi-même, découvre, dans une demi-pénombre, une installation comportant en son centre un âne dressé sur son séant, trônant au sommet d'un tas vaguement pyramidal, qui rassemble plusieurs milliers de livres. Si la présence de cet âne semble, à première vue, peu conforme aux usages d'un lieu dévolu à l'exposition d'œuvres contemporaines, c'est qu'il s'agit là d'un âne « véritable », c'est-à-dire, plus exactement, d'un âne naturalisé, mis en forme, puis mis en scène de sorte qu'il s'offre physiquement à la vue, tenant entre ses pattes avant un livre à couverture rouge.
TELECHÁRGER LE TEXTE INTÉGRAL