Textos (selección) / Texts (selection)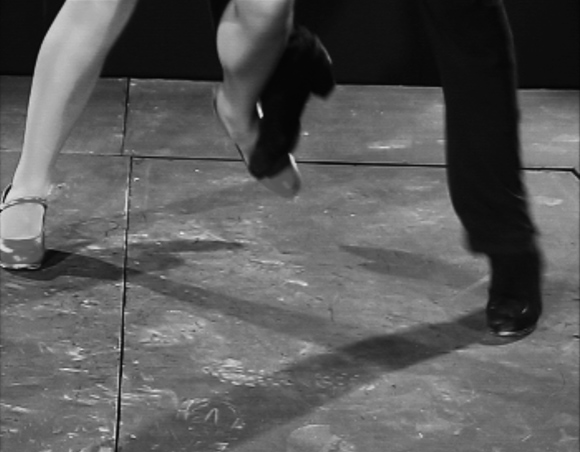 Para volar

Rosa Martínez
© de los textos: sus autores
En Bailaré sobre tu tumba (2004) vuelve a manifestarse la necesidad de decodificar los roles impuestos. Un bailaor profesional calzado con botas negras y una mujer, nuevamente Albarracín, con zapatos rojos de flamenca, zapatean sobre una tarima. Él dispone de las herramientas artísticas, pero la danza se produce en el territorio de ella. Su diálogo pasa por diversas intensidades, traduce las incomprensiones de la relación y el peso cultural de los roles hombre-mujer. Ella está quieta, él ataca suavemente. Él espera, le da tiempo a la mujer y luego, con arte y temple, le construye una geometría. Ella rompe su discurso mediante un zapateado salvaje. Él le aprisiona un pie entre sus dos piernas, pero ella Ase rebela y retuerce el pie que le queda libre. Él baila, ella da patadas y hace ruido. Él construye, ella deconstruye.
DESCARGAR TEXTO COMPLETO

In Bailaré sobre tu tumba (2004) she once again shows the need to decodify enforced roles. A professional dancer, wearing black boots, and a woman – Albarracín once again, with red flamenco dancer's shoes – stamp their feet on a dais. He possesses the artistic tools, but the dance takes place on her territory. Their dialogue goes through different stages of intensity, and it expresses the lack of understanding in the relationship as well as the cultural baggage of the man-woman roles. She is still, he attacks softly. He waits, he gives the woman time and then, with artfulness and courage, he builds a geometry for her. She breaks his discourse by stamping her feet wildly. He traps one of her feet between his legs, but she rebels and turns the foot which remains free. He dances, she stamps on the ground and makes a noise. He constructs, she deconstructs.
DOWNLOAD FULL TEXT