Textos (selección) / Texts (selection)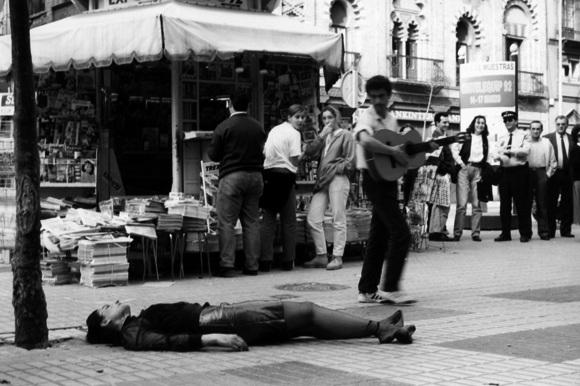 Una y mil mujeres

Rosa Martínez
© de los textos: sus autores
Gracias a sus escenificaciones y performances, Pilar Albarracín desvela el drama de las estructuras de dominación y pone en evidencia la violencia ejercida sobre las mujeres. Pero no lo hace desde un dogmatismo moralista, sino desde la ironía o el sarcasmo de visiones surreales y apropiaciones jocosas. Siendo una sola, personifica a muchas otras: la gitana, la campesina, el ama de casa, la prostituta, la folklórica, la emigrante, la niña herida... Al representar las subordinaciones al género, a la clase social y a la identidad nacional o étnica, se sitúa en una línea de análisis de las construcciones simbólicas que ha marcado los discursos más relevantes de las ultimas décadas.
DESCARGAR TEXTO COMPLETO

Through her mises-en scène and performances, Pilar Albarracín reveals the drama of the structures used for domination and shows us the violence to which women are subjected. However, she does not do it through moralizing dogmatism, but with the irony and sarcasm of surreal visions and in her own jocular style. Although only one, she personifies many: the gypsy, the peasant, the housewife, the prostitute, the folclórica (popular singer), the immigrant, and the injured girl. In representing subordination to gender, social class and national or ethnic identity, she shows that her analysis of symbolic structures is consistent with what has been said in the most influential pronouncements of recent decades.
DOWNLOAD FULL TEXT

A travers ses mises en scène et ses performances, Pilar Albarracín lève le voile sur le drame des structures de domination et la violence perpétrée contre les femmes. Mais au lieu d'adopter un point de vue dogmatique et moralisateur, elle privilégie l'ironie et le sarcasme nés de visions surréelles et d'appropriations cocasses. Elle incarne à elle seule de nombreuses figures féminines : la gitane, la paysanne, la gardienne du foyer, la prostituée, la dépositaire du folklore, l'émigrante, ou encore la petite fille blessée. En choisissant de mettre en images la subordination sexuelle, sociale et identitaire (tant nationale qu'ethnique), Pilar Albarracín rejoint dans son analyse des constructions symboliques les plus éminents penseurs de ces dernières décennies.
TELECHÁRGER LE TEXTE INTÉGRAL