Textos (selección) / Texts (selection)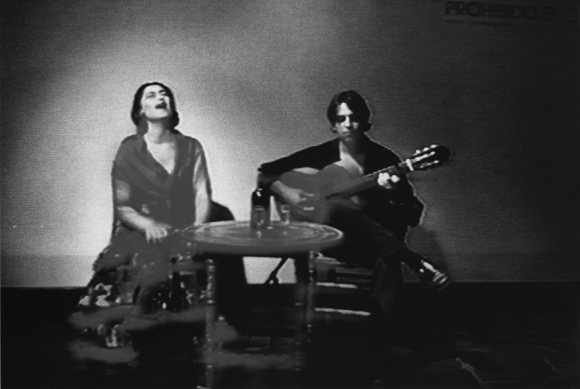 Una mirada insumisa: entre la identidad sexual y la étnica

Xavier Arakistain & Lourdes Méndez
© de los textos: sus autores
Algunos de los trabajos de Pilar Albarracín, nacida en Sevilla a finales de los sesenta, parecen resucitar viejos fantasmas que algunos piensan que desaparecieron con la dictadura franquista. Sin embargo, cualquiera que conozca la historia de la denominada «transición democrática española» sabe hasta qué punto el estereotipo de lo español se reactivó políticamente en los noventa, y hasta qué punto los medios de comunicación lo transmiten incansablemente. Las cadenas televisivas, públicas y privadas, llevan años difundiendo imágenes de folclóricas casadas, por la iglesia, con toreros; de princesas, duquesas y fiestas taurinas; de procesiones seguidas con devoción por políticos de diferente signo; de bailadores y bailadoras de flamenco...; en definitiva, llevan años transmitiendo un conjunto de imágenes estereotípicas que, para los de fuera, condensan lo typical spanish. No se trata aquí de cuestionar la valía cultural de manifestaciones artísticas tan complejas y ricas como el flamenco, sino de incidir en que ha sido el flamenco y no, por ejemplo, la jota aragonesa o la muñeira gallega, el que ha sido políticamente erigido como emblema de una identidad cultural española monolítica que no refleja la realidad pluriétnica del Estado español.
DESCARGAR TEXTO COMPLETO

Some of the works of Pilar Albarracín, born in Seville in the late sixties, seem to revive old ghosts that some think disappeared with Franco's dictatorship. However, anyone familiar with the history of the so-called "Spanish democratic transition" knows how far the Spanish stereotype was reactivated politically in the nineties, and how far the media tirelessly broadcast it. Public and private television channels have spent years showing images of folclóricas (popular female flamenco-style singers) married, by the church, to toreadors; of princesses, duchesses and bullfighting festivals; of processions devotedly followed by politicians of different colours; of female and male flamenco dancers...; in short, they have spent years broadcasting a series of stereotypical images that, for those abroad, condense what is typically Spanish. We do not mean to question the cultural value of artistic manifestations as complex and rich as flamenco, but to stress that it has been flamenco and not, for example, the Aragonese jota or the Galician muñeira, which has been politically established as an emblem of a monolithic Spanish cultural identity that does not reflect the multiethnic reality of the Spanish state.
DOWNLOAD FULL TEXT

Certains travaux de Pilar Albarracín, née à Séville à la fin des années soixante, semblent ressusciter de vieux fantasmes dont certains pensent qu'ils ont disparu avec la dictature franquiste. Toutefois, qui connaît l'histoire de la « transition démocratique espagnole » sait jusqu'à quel point le stéréotype de l'Espagnol a été réactivé politiquement dans les années quatre-vingt-dix, et jusqu'à quel point la presse s'en est fait l'écho sans cesse. Depuis des années, les chaînes de télévision publiques et privées diffusent des images de folclóricas mariées, à l'église, avec des toreros, des princesses, des duchesses et des fêtes taurines, des processions suivies avec dévotion par des hommes et des femmes politiques de différentes obédiences, des danseurs et des danseuses de flamenco, etc. ; en définitive, cela fait des années qu'elles transmettent un ensemble d'images stéréotypées qui semblent condenser, pour les étrangers, les typical Spanish. Il ne s'agit pas ici de questionner la valeur culturelle de manifestations artistiques aussi complexes et riches que le flamenco, sinon de dire que c'est le flamenco et pas, par exemple, la jota aragonaise ou la muñeira galicienne, qui a été érigé politiquement comme emblème d'une identité culturelle espagnole monolithique qui ne reflète pas la réalité pluriethnique de l'Espagne.
TELECHÁRGER LE TEXTE INTÉGRAL